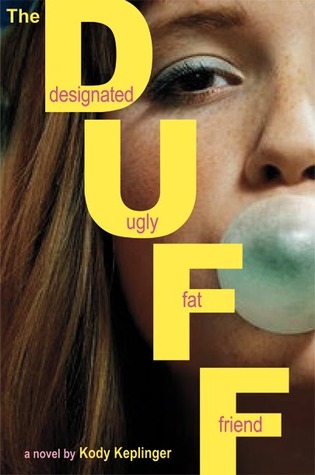 THE DUFF, av Kody Keplinger
Finns att köpa HÄR, 91 kr

---
"Seventeen-year-old Bianca Piper is cynical and loyal, and she doesn't think she's the prettiest of her friends by a long shot. She's also way too smart to fall for the charms of man-slut and slimy school hottie Wesley Rush. In fact, Bianca hates him. And when he nicknames her "the Duff," she throws her Coke in his face.
But things aren't so great at home right now, and Bianca is desperate for a distraction. She ends up kissing Wesley. Worse, she likes it. Eager for escape, Bianca throws herself into a closeted enemies-with-benefits relationship with him.
Until it all goes horribly awry. It turns out Wesley isn't such a bad listener, and his life is pretty screwed up, too. Suddenly Bianca realizes with absolute horror that she's falling for the guy she thought she hated more than anyone."
---
Notes: Jag älskar Keplingers sätt att skriva – det är snabbtänkt, lättsmält, och man känner av Biancas ton genom hela boken!
Bianca är en karaktär jag gillar att följa; hon är nyanserade, rapp i käften, och utvecklas hela tiden under bokens gång(något många författare är dåliga på att föra fram på ett snyggt sätt).
FAVORITKARAKTÄR/ER: Toby & Casey(fast ärligt? ALLA)
FAVORIT-QUOTE: "Well, I would say I'd kick his ass, but we both know that's physically impossible. So I'll write him a strongly worded letter."
BETYG: 4.5/5

CATCHING JORDAN, by Miranda Kenneally
Finns att köpa HÄR, 69 kr

---
"What girl doesn't want to be surrounded by gorgeous jocks day in and day out? Jordan Woods isn't just surrounded by hot guys, though-she leads them as the captain and quarterback of her high school football team. They all see her as one of the guys and that's just fine. As long as she gets her athletic scholarship to a powerhouse university. But everything she's ever worked for is threatened when Ty Green moves to her school. Not only is he an amazing QB, but he's also amazingly hot. And for the first time, Jordan's feeling vulnerable. Can she keep her head in the game while her heart's on the line?"
---
Notes: Även om du hatar football, kan du AVGUDA den här boken. Den är realistisk och vacker och hjärtkrossande och hjärtsmältande, och karaktärernas samspel är amazeballs. Enda minuset är hur Kenneally ibland balanserar mellan att ifrågasätta könsroller, och att själv stödja dem.

FAVORITKARAKTÄR/ER: Sam("Henry")
FAVORIT-QUOTE: "I was in labor with him for fourteen hours!" Henry exclaims as he rocks the [fake](reds. anm.) baby back and forth. "His name is Jerry Rice."
BETYG: 4/5*
*(Sam får 8/5)
BURN FOR BURN, by Jenny Han & Siobhan Vivian
Finns att köpa HÄR, 69 kr

---
"

Postcard-perfect Jar Island is the kind of place where nobody locks their doors at night, where parents can sleep easy, knowing their daughters are tucked away s

afe and sound in their beds.
But bad things can happen, even to good girls, and sometimes, the only way to make things right is to do something wrong.
LILLIA used to trust boys, but not anymore. Not after what happened this summer. And she'll do whatever it takes to protect her little sister from the same fate.
KAT is over the rumors, the insults, the cruel jokes made at her expense. It all goes back to one person–her ex-best friend.
Four years ago, MARY left Jar Island because of a boy. But she's not the same girl anymore. Now that she's got friends who have her back, he's going to be in big trouble.
Three very different girls who come together to make things right. Will they go too far?"
---
Notes: Boken följer Lillia, Kat och Mary, och varje kapitel är skrivet i med väldigt distinkta röster – det är möjligt att avgöra vems tankar du hör, även om det inte hade nämnts några namn.
Jenny Han är en av mina favoritförfattare, just p.g.a. det enkla men självklara språk hon använder.
"Burn for Burn" är den lättsmälta första delen i en trilogi – men plotten tjocknar betydligt i de två efterföljande böckerna.

FAVORITKARAKTÄR/ER: Kat & Alex
FAVORIT-QUOTE: "Star table, center of the so-called action. The last day of school junior year, the coolest seniors call the coolest juniors over and invite you to have lunch with them. It's like the passing of the popularity torch. Too bad it's just the same as any other gross table in this cafeteria."
BETYG: 3/5
FAVORITKARAKTÄR/ER:
FAVORIT-QUOTE:
BETYG: